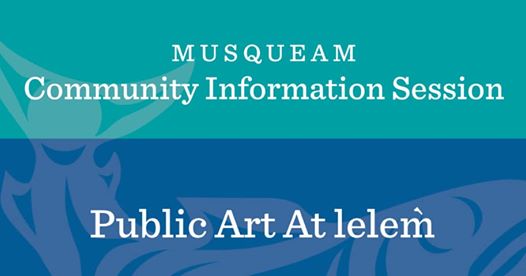 After hearing your feedback at previous community meetings, MCC would like to invite you to dinner for a brief presentation updating you on the public art at lelǝḿ. You will then have the opportunity to meet MCC's Art Consultant for lelǝḿ and to learn more about the lelǝḿ Art Committee.
We hope to see you there and look forward to answering your questions. –
When: Monday, May 27, 2019 (5:30PM-7:30PM)
Where: Musqueam Cultural Centre
*Please note that dinner will be served at 5:30pm.
Inquiries regarding this event can be forwarded to:
Desirae Fraser
604.559.5400
dfraser@musqueam.bc.ca